Tracking employee skills and competencies with spreadsheets is a pain. Who has the latest matrix versions? Who's going to fix formulas that are deleted or broken? Who is keeping them up to date?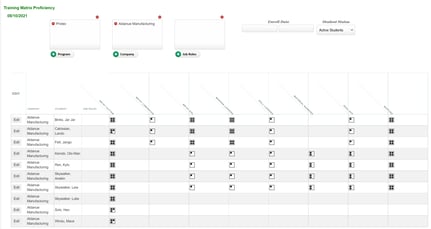 Tracking employee skills and proficiency levels is increasingly critical for workforce management and employee development. Matrix reports that show available and required skills and proficiency levels is an easy, visual way to track who is trained and capable of doing various jobs. It is also increasingly required for customer and quality standard audits.
Many organizations have built complex spreadsheets to try and track skills, but these are often cumbersome, easy to break and no one knows who has the most up to date version. That's where Prosperity Skills Mark can help.
Unlike spreadsheets you can:
Maintain one consistent up-to-date matrix
Quickly update with no formulas
Easy reporting for audits
Filter and group data to get the precise data you need
Set automatic updates to keep employee and team information up to date
Automate tracking reports, notifications and reminders
Prosperity Skills Mark gives you the data you need at your fingertips to make better decisions, identify gaps, and report on skills for employees, teams and entire companies.