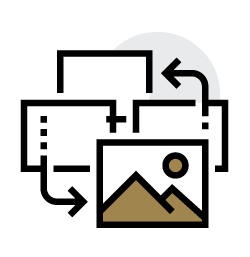 You're different from everybody else.

We get it.
Prosperity can be customized to fit you exactly.
Prosperity by Ziiva is a full-featured LMS that can serve companies who need to train as few as 50 people or as many as 50,000. We've worked with Fortune 500 companies like Federal Express and government clients such as the U.S. State Department.
See how some customers have customized Prosperity
Training missionaries across the world
The client:
This client is a religious organization with a large, dynamic, international user base. The client needed a way to easily group their members and provide targeted training to various groups at different times.
The customization:
Prosperity enabled this client to offer training, tools, and resources to users all over world.
Ziiva provided this client with a group/membership LMS module that allows administrators to invite new users to a group. After a user accepts the invitation and creates a profile, they are automatically added to that group, and assigned specific training.
Group administrators can manage their own groups, assign other group administrators, and run reports.
Emergency medical evac training
The client:
This client is one of the world's leading helicopter services companies with a highly skilled staff of pilots and maintenance technicians. The company discovered that they were spending a lot of time granting interviews to potential hires only to find that the interviewees did not pass muster in terms of their actual knowledge.
The customization:
Ziiva is customizing Prosperity to deliver an applicant exam to gauge the basic ability levels of prospective employees before they are cleared for the interview process.
Training & event planning
for foster families
The client:
This client creates safe havens for children and families through adoption and foster care. They needed a system to host and track training and feature events.
The customization:
Ziiva modified Prosperity to enable this client to offer employee training and public training as well as add events and feature them on the student calendar. Students can search for and select events from the calendar, and be directly connected to the Eventbrite registration page.
Organizing & teaching for animal-assisted interventions
The client:
This client is at the forefront of educating and demonstrating the health benefits of animal-assisted interventions. They needed an LMS that was tightly integrated with Salesforce and could act as training platform.
The customization:
Ziiva customized Prosperity to automatically create student accounts, retrieve contact information from Salesforce, and gather information about volunteers and their animals.
The client's instructors use Prosperity to grade and manage student records. They can also update Salesforce records directly from the class module.
The end result is a seamless interface between Salesforce and Prosperity for all users–administrators, instructors and students.
"
The Prosperity software frees us from having to utilize products which have been made to encompass all fields and not focused particularly on the food industry. "
"
Prosperity LMS excels in course creation, which is useful if you plan to create your own learning materials. Administrative features: far above average. "