LMS experts, trainers agree on one thing: Usability is key
What is the most important thing to look for in a learning management system?
When we asked a dozen elearning and training professionals this question, we thought it was the kind of query that wouldn't have a simple answer. After all, while everyone has similar needs - employee development, customer education, executive training - they don't have the same needs.
We were flat-out wrong.
Yes, there are plenty of things that people want in an LMS - cost, adaptability, tracking, etc. - but the item at the top of pretty much everyone's list is even more basic: ease of use.
When you think about it, that makes perfect sense. Good training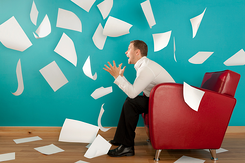 software shouldn't have a large learning curve, or, for that matter, any learning curve. It should be practically invisible. Users should be able to hop right on and begin training without being challenged by a confusing interface. The same goes for trainers: they shouldn't have to jump through hoops to create online training modules or generate the reports and documentation they need.
The director of an elearning consultancy in the United Kingdom summed it up this way: "My life for the last 10 years seems to have been trying to work around illogical LMS functionality that simply isn't user friendly for the learner!"
Our admittedly unscientific survey of professionals on LinkedIn and current Ziiva Prosperity LMS clients was intended to develop a list of starting points for businesses thinking about purchasing an LMS system. While we found a common, overriding theme in usability, we also heard about some other important factors you may want to consider as you conduct your own search for learning management systems.
Here are some of the other key points raised by survey respondents:
Implementation: How fast can I deploy the system? How much support will I need?
Security: Does the system allow secure remote login? Does it protect proprietary corporate materials?
Adaptability: Can the system support various file types such as Flash, streaming video, podcasts, etc.? Can it support classroom elearning, instructor-led training and self-paced web-based training? Can the system be modified to accommodate new or revised learning modules, as well as scaled to organizational growth?
Cost: What are the startup costs? What are the long-term costs of service fees and licensing?
Data collection: Can the system retain records and monitor learners' progress at the level you need to document employee completion of safety, ethics/compliance and similar classes?
These items should provide a useful starting point for anyone looking into LMS software, but if you have any other issues you want to add to this list, please add a comment below.