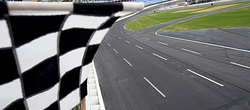 The LMS is at the starting line, the crowd is pumped, the flag drops and it's off to the races.
Hold on just a second.
Employee training shouldn't be a street race. It's not sound business to jump into the shiniest hot-rod in the parking lot, find a reasonably straight stretch of blacktop and go hurtling off into the night, racing to meet your corporate eLearning goals without any thought to what lurks around the corner.
It's better to steal a page from NASCAR and take a more methodical, professional approach to training development. Figure out where you want to go, find out who's going to be in your way, and use the best equipment you can to get across the line first.
Here are four lessons for employee development from the world of racing:
Know the course
Professional racers don't show up at the track and hit the gas, first they study the ins and outs of the course. You need to do the same. How long will the training take? How many people will be involved? Have you scheduled your pit stops effectively? Are there any quirks you need to account for that are particular to this course?
Use the best tools and technology available
Even the driver who finishes last – or crashes and burns – is an elite member of their profession, the best of the best. Sure, raw talent, guts and luck are important, but the machines themselves play a crucial role in who wins and who loses. Does your learning management system meet the needs of your learners? Do you have the eLearning software and hardware to go the distance? Is it easy to handle? Does it give your pit crew the data it needs to make effective assessments?
Have a capable pit crew
There's a crew of unsung heroes behind any driver. Without them, the wheels will come off – literally. When it comes to computer-based training, you need a strong pit crew, as well. From the course developer to the administrator to the trainer to the back-end IT muscle to the vendor support, every link in the chain must be able to participate as needed.
Have fun
Drivers love what they do. It's more than a job to them, it's who they are. That may be asking too much of someone doing compliance training, but that doesn't mean training still can't be fun (or at least not un-fun). Make sure your online training provides a positive user experience.
OK, with these lessons in mind, now it's time to wave the green flag: Ready, set, learn!