In some organizations, these two words can often be a cause for annoyance, irritation or even dread: Employee training.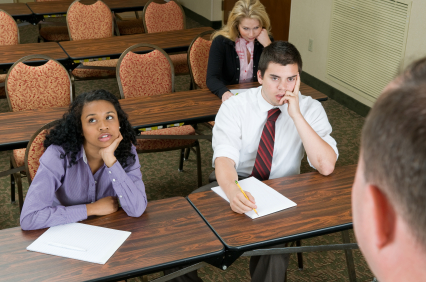 Regardless of your position – c-suite, cubical-dweller, call center, etc. – being herded into a windowless room for (yet another) slide show can be a real buzz kill.
But it doesn't have to be that way.
Continuing education is a major factor in the success of any organization, and most of your employees likely understand that.
So, what's the problem? We believe there are three potential bottlenecks in the training development pipeline.
Sometimes its you
There are, of course, a number of factors inhibiting workplace learning, but with the right strategy and the right culture, these can be mitigated.
In terms of corporate learning strategy, here are some questions you need to ask: Do I have clearly crafted goals? Have I teased out the junk and focused on the meat of what I want my employees (or customers) to learn? Do I have a flexible system in place that provides on-demand, computer-based training options? Can I effectively measure the results of my efforts?
In terms of culture, does your organization do a good enough job promoting the virtues of workplace training? Do your employees understand how their training fits into the company's overall strategy? Finally, are your employees excited about your brand? It's one of those things that go hand in hand – people who are proud of what they do and look forward to solving challenges are also motivated learners.
Sometimes it's them
While you can – and must – do everything you can to motivate your employees to learn, they also need to look within. As Shelley Gable points out in her blog post on Internet CE – "Motivate Yourself to Learn through Attention, Relevance, Confidence, and Satisfaction" – self-motivation is possible, and crucial.
In a related post, Gables makes yet another great point about how an individual can get the most out of their learning experience: Don't try to multitask your way through it.
While there is some debate about the benefits and drawbacks multitasking out there, we believe employees – whether training in a classroom setting, in their spare time, or remotely via the Web – can get the most out of training by giving it their undivided attention, as opposed to texting, tweeting, checking fantasy baseball stats and then skipping back a few screens to search for what you already forgot.
Sometimes it's the system
Your learning management system may be well-known in the industry, but does it do what you need? How easily can you adapt it to your specific requirements? How easy is the interface for end-users? Do you receive the kind of service and support you need to make it work for you?
If you go through the steps above to maximize your organization's training efforts, you don't want software to be a choke point, so look for a customizable, flexible, easy-to-use LMS that meets your needs.
Back in January, we posted a more in-depth blog entry about this specific issue, noting that choosing the right LMS can significantly affect "organizational benefits, ROI, and effectiveness of an organization's training strategy and goals."
The takeaway
A coherent training strategy and a culture of learning are essential to successful workplace learning. But so are motivated employees. And having the right software tools. Put all these things together and the sky's the limit.